RESEARCH MENU:
---
Links to a discussion originally appended to another article--Comet Trails...--from ~1988:
---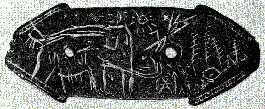 An 1885 book by H. C. Mercer that investigates the authenticity of the carving on the above gorget.
---
An investigation of the root tap and words derived from it which may be associated with describing comets and impact events:
---
Accounts of small, apparent impact events, which caused a fire but little if any blast damage:
---
This observation taken from the writings of G.J.N. Wilson (The Early History of Jackson County Georgia, 1914, pp. 188-193, W.E. White editor) gives a remarkable account of a Native American Stonehenge-like construction as well as a description of the type conditions which prompted a gathering:
---
For those who enjoy a challenge:
---
An ongoing discussion of issues related to this broadening area of research:
---
David Milne's academic prize winning Essay on Comets, published by the University of Edinburgh in 1828:
---
The earliest known symbol, and its migration; with observations on the migration of certain industries in prehistoric times. By Thomas Wilson, (1894) Curator, Department of Prehistoric Anthropology, U.S. National Museum.
---
The Sibylline Oracles (Books III-V) as translated by H. N. Bate (1918):
---
A history of the Dragon in China and Japan, by M. W. de Visser (1913):
---
The She King, translated by James Legge (1876):
---
Ilios: City and Country of the Trojans, by Henry Schiliemann (1881):
---
In The Shadow Of The Bush, by P. Amaury Talbot (1912):
---
A discussion of the historicity of the Mahabharata, edited by S.P. Gupta and K.S. Ramachandran (1976):
---
An early (1882) discussion, by Ignatius Donnelly, of the possibility of Earth being hit by a comet:
---
The Channeled Scabland: A Guide to the Geomorphology of the Columbia Basin, Washington, by Victor R. Baker & Dag Nummedal, NASA (1978):
---