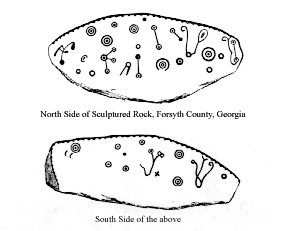 ---
From: The History of Forsyth County Georgia vol. 1, 1985 - page 8-9
PETROGLYPH
Found near Mt. Tabor Baptist Church in the Northwestern part of Forsyth County was described by White in 1849l4 as follows:
On the road from Canton to Dahlonega, 10 miles northwest from Cumming, is a very remarkable rock. It is an unhewn mass of granite, eight and a half feet long, and two and a half feet wide. It is three-sided, with irregular converging points, upon which are characters, seventeen of them varying in shape. The largest circles are eight inches in diameter. From its appearance, it must have been wrought at a very remote period. The designs are very irregular, and it is probable that they were executed by the same race of people who constructed the mounds in this and other sections of the State. What the characters on this rock mean, the oldest inhabitants cannot tell. The oldest Indians could give no account of it. Would it not be proper for the Legislature to make a small appropriation to convey this curious relic of antiquity to Milledgeville?
Jones wrote in 1873:l5
In Forsyth County is a carved or incised boulder of fine grained granite, about nine feet long, four feet six inches high, and three feet broad at its widest point. The figures are cut in the boulder from one-half to three-quarters of an inch deep.... On the eastern end of the boulder, running vertically, is a line of dots, like drill-holes, eighteen in number, connected by an incised line.
This boulder is now on the University of Georgia campus in Athens, Georgia, and should be on the Forsyth County courthouse yard in Cumming. One must agree that this pre-Forsyth County History is from the best guesses of archaeologists and is backed up with many artifacts that have been found in the area. Much more could have been written about the findings in this area but maybe enough has been given to whet your desire to find out more about the archaeology of Forsyth County.

Footnotes - Chapter I .
The Archaeology of Georgia, Dickens & McKinley, Frontiers in the Sail Frontiers Publishing Co., Atlanta, GA page 12
Ibid - page 13
Ibid - page 16
Ibid - page 20
Ibid - page 30
Ibid - page 39
Ibid - page 42
Archaeological Survey of Northern Georgia No. 21, Robert Wauchope Society for American Archaeology, 1966 - pp. 15-17
Ibid - page 394
Ibid - page 396
Ibid - page 396
Ibid - page 329
White's Statistics of Georgia - 1849 pp. 255-56
White's Statistics of Georgia - 1854 pp. 458-59
C. C. Jones, Antiquities of the Southern Indians - 1873 p. 377 & 378
---
From: Wednesday at the University of Georgia, April 17, 1963 - number 269 9-24
THIS BIG ROCK IS ALREADY CARVED
Late last week the plant operations department made preparations for the arrival on campus of a most unusual gift -- a three and a half ton petroglyph to be placed near the Georgia Museum of Art Workmen poured a concrete slab alongside the Museum and devised a plan to bring in a lowboy truck close enough so that the large carved stone could be lifted into place.
The stone is coarse crystalline granite carved on both sides with symbols and marked along its top ridge with nut-sized holes. It is about eight feet long, three feet high, and 40 inches wide at the base. The gift of Athens businessman Hal Vaughn, the stone is being moved here from Property Vaughn owns in Forsyth County. Clemens de Baillou, archaeologist, says that at first the stone was thought to belong to a later period of Indian prehistory, or about 800 years ago. More careful study, however, indicates that it might belong to a much earlier period. The symbolism carved on it -- mostly double circles and some crude stick-figure bodies -- differs from that found on stones at Etowah Mounds. The symbolism on the petroglyph given to the University is not so rich and is perhaps a bit more primitive, he said.
Nobody really knows much about petroglyphs, but they are associated with fabulous tales of buried treasures. Mrs. Francis C. Smith, an Atlantan who has spent much time hunting petroglyphs in Georgia, reported in a 1950 issue of "Early Georgia" that many treasure seekers had thought there were 40 pony loads of pure Indian gold under this very petroglyph.
If it ever had a golden base, the University's "new" carved stone has come to a prosaic end. It will rest now on concrete. Incidentally, this is not the University's first petroglyph. There is another smaller one in the enclosed garden at the Law School .
---